Google Trend is a tool that allows you to examine the search volume on Google.
As the search volume is strongly correlated with people's interest and the degree of interest closely correlates with the price of a cryptocurrency, Google Trend would be a good tool to predict the future price/trend of a cryptocurrency.

For example, below is the result of "Bitcoin"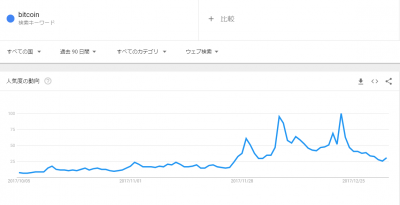 The chart of Bitcoin is like this.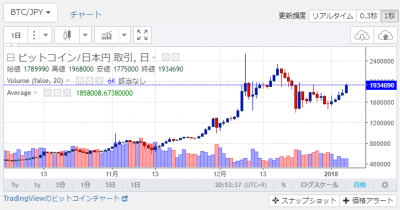 There is a clear correlation.

Then, I compare BitZeny (ZNY) with other cryptocurrencies.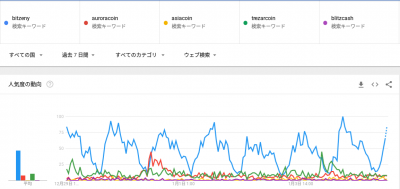 BitZeny comes about 400th(2.5billion yen) in market capitalization ranking. First, I compared BitZeny with other cryptocurrencies that come around 400th in the ranking.
I chose cryptocurrencies randomly, avoiding those that are using common words that are likely to contain results other than cryptocurrency (eg PURE).
I chose Auroracoin, Asiacoin, Blitzcash, Trezarcoin.
BitZeny (ZNY) is light blue. It overwhelms the search volume of other coins.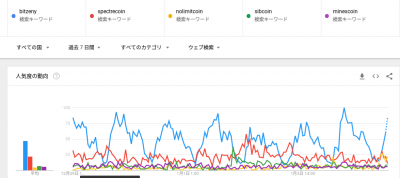 Next, comparison with coins around 200th in the ranking.
I chose Spectrecoin, Nolimitcoin, Sibcoin, Minexcoin.
Although all coins clearly have much larger search volume when compared with coins around 400th, BitZeny still comes to the top.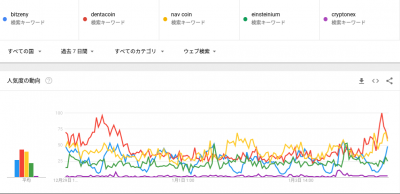 Next is a comparison with coins around 100th in the ranking(about 25billiion yen).
I chose Dentacoin, Nav Coin, Einsteinium, Cryptonex.
BitZeny ranks the third place.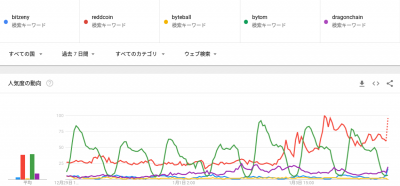 Finally, a comparison with the coins of around 50th place in the ranking, which market capitalization is about 50 to 60 billion yen.
I chose Reddcoin, Byteball, Bytom, Dragonchain.
Some are relatively well-known coins. The search volume of BitZeny is obviously smaller than the others, but it wins one coin and comes fourth.
Conclusion

The above results are the results of the last seven days. Although Bitzeny's search volume is smaller compared to the early December, when its price boomed, it has fairly large search volume.
As far as Google trends are concerned, BitZeny's market capitalization can be around 25 billion yen, that is, about 200 yen to 300 yen (2 dollars to 3 dollars).