BitZeny(ZNY) is a cryptocurrency which has gained dramatic attention in the past few weeks and its price soared more than twenty times. Some people call this coin "the second Monacoin" because both coins were originally developed by a Japanese developer and avidly supported by Japanese people.
BitZeny was developed by a Japanese developer in 2014 and most holders (presently) seems to be Japanese people. For that reason, most information about BitZeny is in Japanese language. I decided to write this article to spread information about this currency to English speaking people. I am only a supporter (and a holder) of BitZeny and I do not have much knowledge about the technical side of this currency. Thus, I do not (and cannot) write in detail about technical aspects.
1. What is BitZeny?
BitZeny is a cryptocurrency developed by a Japanese developer in 2014. The original developer was missing for a while, but he (she?) appeared again in December 2017 (Twitter) and announced that he will participate in the development. At the same time, the official BitZeny website was updated.
While the original developer was absent, BitZeny has been developed by volunteers. The BitZeny community is very vigorous and active. One of the main sites is 'BitZeny forum'. The new official wallet was released by these volunteers.
A major technical feature of BitZeny is that it can be mined with CPU. Unlike many other cryptocurrencies, it is possible to mine a fair amount by mining with CPU. You do not need to have pricey ASIC or GPU(video card). Mining software can be downloaded on the official website and there are plenty of information on how to mine this currency. The official website also appeals this point.
So BitZeny is an easy-to-enter currency when you get interested in cryptocurrency and mining. I believe this is one reason why BitZeny got huge attention. After the price rose in December, many mining pools were born and mining environment is increasingly enriched.
2. BitZeny Services
BitZeny Online Wallet. Provided in Japanese and English.
You can send a tip on Twitter using "Zenyhime".
You can send a tip to a music clip.
You can send a tip to a video clip.
BBS where you can tip a comment.
In addition to these services, there are some webshops you can purchase with BitZeny. Zenyshop is one of the oldest shops you can pay with BitZeny.
After the price rose in November 2017, various services are born one after another.
Most recently, an Unagi restaurant in Saitama prefecture announced that it will adopt Bitzeny as a means of payment.
3. Communities
In Japanese but some threads are in English.
Telegram - BitZeny Japan
Latest information on BitZeny can be found on Twitter. Please try search "BitZeny" or "ZNY" on Twitter.

4. What is the reason for the surge?
BitZeny price chart.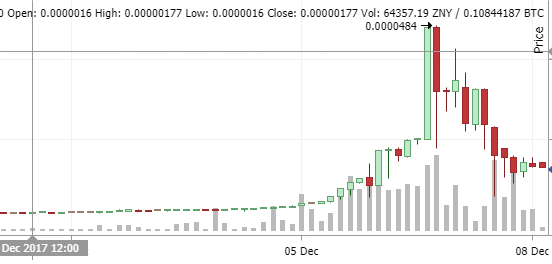 Why did the price soar? In my opinion, there are several factors.
- Price of Monacoin(MONA), which is also developed by Japanese people, soared.
- Listed on several stock exchanges(Stocks.exchaneg and Cryptobridge).
- The new official wallet of BitZeny has released.

- The attention to mining increased. And BitZeny, which "Can be mined with an ordinary personal computer", attracted attention.
5. Where can I buy BitZeny?
Currently, five exchanges list BitZeny.
-C-CEX
-Novaexchange
-Cryptobridge
-Stocks.exchange
-Tradesatoshi
C-CEX had been the biggest BitZeny exchange for a long time, but I do not recommend this exchange now because it is now "on vacation" (as of December 27th)and you cannot send or withdraw cryptocurrencies including BitZeny. Novaexchange was the second exchange but it will be closed soon.
I strongly recommend using Cryptobridge or Stocks.exchange to buy BitZeny. Cryptobridge is DEX(Decentralized Cryptocurrency Exchange) and BitZeny trade is getting active day by day. Tradesatoshi added BitZeny just recently, so its BitZeny trade is not so active.

Updated on December 30, 2017