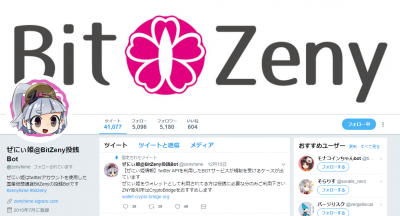 Zenyhime will stop providing its service by the end of March, 2018.
If you have a Zenyhime account, withdraw all funds as soon as possible (tweet @Zenyhime withdrawall ZNY-ADDRESS).
Zenytips is another BitZeny tipping bot on Twitter and you can use it basically in the same way. From now on, let's use Zenytips!
What is Zenyhime?
Zenyhime(@zenyhime) is a tip bot which works on twitter. You can tip or send BitZeny(ZNY) to a twitter account. If you talk to Zenyhime, it will creat a ZNY address associated with your twitter account. You can send, tip and receive ZNY.
How to use Zenyhime?
For example, if you want to tip 1.14 ZNY to my account(@habomaisyoto), tweet
@zenyhime tip @habomaisyoto 1.14
You can add a comment, if you want.
@zenyhime tip @habomaisyoto 1.14 Thanks!
Other basic commands
balance: Display your ZNY balance.
@zenyhime balance Comment(Optional)
You can check your ZNY balance. If you tweet this command to zenyhime, zenyhime will reply to you.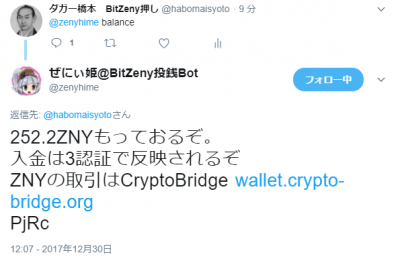 My twitter account has 252.2 ZNY.
deposit: Display deposit address
@zenyhime deposit Comment(Optional)
send: Send ZNY
@zenyhime send @user-to-send amount(ZNY) Comment(Optional)
tip: tip ZNY
@zenyhime tip @user-to-tip amount(ZNY) Comment(Optional)
withdraw: withdraw ZNY
@zenyhimeyourZNYaddress amount(ZNY) Comment(Optional)
withdrawall: withdraw all your ZNY
@zenyhimewithdrawall yourZNYaddress Comment(Optional)
How to receive a tip?
When you got a tip from somebody, you need to tweet @zenyhime balance within three days. If you do not do it, the tip will be returned to the sender. On the other hand, when you got ZNY using @zenyhime send, you do not need to tweet @zenyhime balance.
How can I get a tip?
The BitZeny community is currently working hard to expand overseas. If you tweet about BitZeny on Twitter, you may get a tip. In addition, a lot of projects that you can get BitZeny are in progress. Please check it on Twitter.